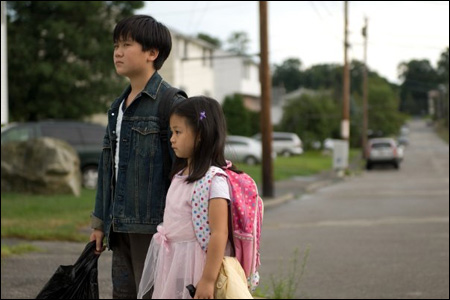 Children of Invention, chosen as last year's Grand Jury Prize for Best Film and Best Narrative Feature Prize in our own San Diego Asian Film Festival, is something we can all relate to.
The story is easily relatable to many Asian-American immigrants as it's about a family trying to survive in the U.S. The head of household, Elaine Chang has to do whatever she can to take care of her two children. Searching for jobs isn't easy, and she ends up taking the bait in getting involved with an illegitimate business because the initial appeal of earning a lot of money in a short period of time is always attractive. Her husband lives away from the family because he's doing the best that he can to send over money. When Elaine is out doing business deals, the kids have to tend to themselves and we find out later that they're geniuses, trying to help their mother and to get their old house back. They question things, and know what's going on with their situation, argue their points, and are ignored sometimes because of their age. This film has a lot of heart, and will delve into your soul once you see everything that they go through. It also has a lot of hope, because the children shed light on their financial problems with their sheer optimism and resourceful creativity.
For more information about this film, visit
http://www.childrenofinvention.com
.